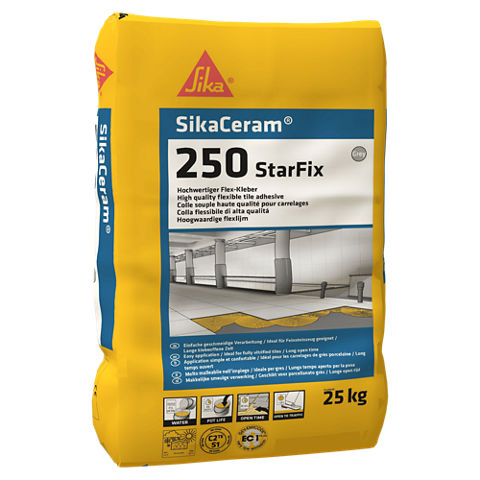 CEMENTGEBONDEN, VERVORMBARE TEGELLIJM
SikaCeram®-250 StarFix is een vervormbare, cementgebaseerde tegellijm die aangebracht kan worden in laagdiktes tot 5 mm. SikaCeram®-250 StarFix is geschikt voor het verkleven van alle types keramische tegels op vloeren en wanden, binnen en buiten, voor residentiële en commerciële omgevingen, op vloeren met vloerverwarming, balkons en terrassen.   C2 TE geclassificeerd volgens EN 12004 en S1 volgens EN 12002, in dunbed consistentie.
Vervormbaar.
Verlengde open tijd.
Vorstbestendig.
Smeuiige gemakkelijk toe te passen mortellijm
Gebruik
SikaCeram®-250 StarFix is geschikt om de volgende types tegels te verlijmen:
Keramische tegels
Aardewerktegels
Dikke keramische tegels
Tegels uit marmer en andere natuursteen die niet gevoelig zijn voor verkleuring
SikaCeram®-250 StarFix kan worden gebruikt op vloeren en muren, binnen en buiten, inclusief:
Vloeren met vloerverwarming (systeem met water, of elektrisch)
Terrassen
Balkons
Overlagen van bestaande, gezonde keramische tegels, wanneer die zich binnen bevinden en voorzien zijn van een laag Sikafloor®-01 of Sikafloor®-02 Primer
Gipsplaten
Voordelen
Vervormbaar.
Verlengde open tijd.
Vorstbestendig.
Smeuiige gemakkelijk toe te passen mortellijm
Toepassing
Verwerkingsinformatie
Slipweerstand
Alle gegevens zijn afkomstig uit testrapporten die openbaar worden gemaakt door Kiwa TBU GmbH, officiële instantie met nr. 0799
Mengverhouding
7,5 liter water (30 % ± 1 %) voor 25 kg SikaCeram®-250 StarFix
Omgevingstemperatuur
+5 °C min. / +35 °C max.
Ondergrondtemperatuur
+5 °C min. / +35 °C max.
Verwerkingstijd
~4 uur bij +20 °C
Open tijd
| | |
| --- | --- |
| ≥ 0,5 N/mm² na 30 min | (EN 1346) |
Verwerkt product klaar voor gebruik
| | |
| --- | --- |
| Gebruik | Wachttijd |
| Opvoegen binnen, voetverkeer | 24 uur |
| Voor opvoegen buiten | 48 uur |
Verbruik
Verbruik
Het verbruik is afhankelijk van het oppervlakteprofiel en ruwheid van de ondergrond, alsook van de plaatsingstechniek (enkele of dubbele verlijming)
Als leidraad:
| | | |
| --- | --- | --- |
| Type tegels | Getande plakspaan maat | Verbruik |
| Klein | 6 mm | ~ 2,1 kg/m² |
| Normaal | 8 mm | ~ 2,6 kg/m² |
| Groot | 10 mm | ~ 3,1 kg/m² |
Verwerkingsinstructies
MENGEN
Giet de aanbevolen hoeveelheid water in een geschikt, propere mengkuip. Giet, al traag roerend, traag het SikaCeram®-250 StarFix poeder bij het water en meng grondig met een traagdraaiend (500 tpm) elektrisch mengtoestel tot een gladde, klontervrije pasta bekomen wordt.
Laat het product na het mengen enkele minuten rusten, en meng daarna nog even kort op vooraleer het product te verwerken. Het verkregen mengsel bezit een zeer romige consistentie en kan gemakkelijk worden uitgestreken.
VERWERKING
SikaCeram®-250 StarFix wordt aangebracht met een getande plakspaan.
De hoeveelheid product moet voldoende zijn om de achterkant van de tegels volledig te bestrijken.
De tegels moeten worden aangebracht op pas aangebrachte lijm. Daarbij moet voldoende druk worden uitgeoefend om voor een volledig en gelijkmatig contact met de lijm en bijgevolg een optimale hechting te zorgen. Als op het oppervlak een huid gevormd is, werd de lijm te lang onaangeroerd gelaten; mocht dit gebeuren, verwijder dan onmiddellijk de mortellijm met een plakspaan en gooi dit materiaal weg. Breng vervolgens een nieuwe laag SikaCeram®-250 StarFix aan.
Vermijd verwerking in rechtstreeks zonlicht en/of sterke wind/tocht.
SikaCeram®-250 StarFix is geschikt om absorberende en niet-absorberende tegels te plaatsen in binnensituaties, zonder beperkingen wat de grootte van de tegels of de ondergrond betreft.
SikaCeram®-250 StarFix is ideaal voor het verkleven in buitensituaties van niet-absorberende tegels tot 10 000 cm2 (bv. 60 × 120 cm) op vloeren, en tot 7000 cm2 (bv. 80 × 80 cm) op muren, op cementgebaseerde, niet-verwarmde ondergronden.
Om tegels groter dan 900 cm² (bv. 30 x 30 cm.) te verlijmen, moet de dubbele verlijmingstechniek gebruikt worden.
REINIGING GEREEDSCHAP
Reinig alle gereedschap en materieel met water onmiddellijk na gebruik. Uitgehard materiaal kan enkel mechanisch worden verwijderd.