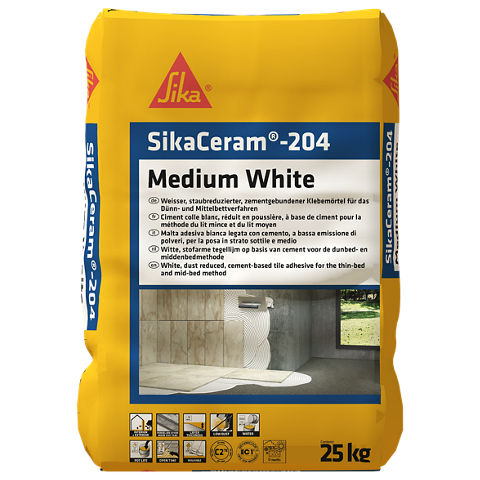 SikaCeram®-204 Medium White
WITTE, STOFGEREDUCEERDE, CEMENTGEBASEERDE TEGELLIJM
SikaCeram®-204 Medium White is een witte, stofgereduceerde cementgebaseerde mortellijm met verbeterde hechting, voor middelgrote keramische tegels. Hij kan worden gebruikt in lagen tot 10 mm dik en is geschikt voor het betegelen van vloeren en muren van residentiële gebouwen, zowel binnen als buiten. SikaCeram®-204 Medium White is C2 TE geclassificeerd volgens EN 12004
Geen afglijding bij verticale applicatie
Verlengde open tijd
Vorstbestendig
Stofarm
Gebruik
SikaCeram®-204 Medium White is geschikt voor het verkleven van volgende soorten tegels:
Alle types middelgrote keramische tegels
Aardewerktegels
Natuursteen en cementtegels die niet gevoelig zijn voor vervorming
Natuursteen en cementtegels die niet gevoelig zijn voor verkleuring
SikaCeram®-204 Medium White kan binnen en buiten gebruikt worden op volgende ondergronden:
Gips- of cementgebaseerde ondergronden
Verwarmde vloeren binnen
Voordelen
Geen afglijding bij verticale applicatie
Verlengde open tijd
Vorstbestendig
Stofarm
Toepassing
Verwerkingsinformatie
Mengverhouding
7,25 liter water per zak van 25 kg
29 % ± 1 %
Verse morteldichtheid
1,70 kg/dm³
Omgevingstemperatuur
+5 °C min. / +35 °C max.
Ondergrondtemperatuur
+5 °C min. / +35 °C max.
Verwerkingstijd
~3 uur bij 20 °C
Open tijd
| | |
| --- | --- |
| ≥ 0,5 N/mm² na 30 min | (EN 1346) |
Uithardingstijd
~24 hours
Nabehandeling
Na de toepassing minstens 12 à 24u beschermen tegen slechte weersomstandigheden, zoals extreem hoge temperaturen of vriestemperaturen, regen, directe blootstelling aan de zon.
Verwerkt product klaar voor gebruik
| | |
| --- | --- |
| Gebruik | Wachttijd |
| Opvoegen binnen / beloopbaar | ~24 hours |
| Opvoegen buiten | ~48 hours |
Resultaten zijn bekomen in laboratoriumomstandigheden: 23°C ± 2°C – R.V. 50% ± 5%. Hogere temperaturen verkorten de aangegeven wachttijden, terwijl koudere temperaturen deze verlengen.
Verbruik
Verbruik
Het verbruik is altijd afhankelijk van het oppervlakte profiel en ruwheid van de ondergrond, alsook van de plaatsingstechniek (enkele verlijming, of dubbele verlijming (buttering and floating)). Als leidraad:
| | | |
| --- | --- | --- |
| Tegelgrootte | Getande plakspaan maat | Verbruik |
| Klein | 6 mm | ~2,4 kg/m² |
| Middelgroot | 8 mm | ~2,9 kg/m² |
| Groot | 10 mm | ~3,4 kg/m² |
Verwerkingsinstructies
MENGEN
Giet de aanbevolen waterhoeveelheid in een geschikte, zuivere mengkuip. Terwijl langzaam geroerd wordt, langzaam het SikaCeram®-204 Medium White poeder toevoegen aan het water. Meng het geheel grondig met behulp van een elektrisch mengtoestel met laag toerental (~ 500 tpm) tot een homogeen, klontervrij mengsel bekomen wordt.
Na het mengen het product enkele minuten laten rusten, en roer het vervolgens kort vóór het aanbrengen nog kort om. Het verkregen mengsel moet een zeer romige consistentie bezitten en gemakkelijk uitspreidbaar zijn.
VERWERKING
SikaCeram®-204 Medium White wordt aangebracht met een getande plakspaan.
De aangebrachte hoeveelheid product moet voldoende zijn zodat de achterkant van de tegels volledig bestreken/benat zijn.
De tegels moeten worden aangebracht op verse lijm. Daarbij moet voldoende druk worden uitgeoefend op de tegel om voor een volledig en gelijkmatig contact met de mortellijm, en dus voor een optimale hechting te zorgen. Als op het oppervlak van de lijm zich reeds een huid gevormd heeft omdat de mortellijm te lang onbewerkt gebleven is, moet de lijmlaag onmiddellijk verwijderd worden met de plakspaan, het materiaal weggooien en een nieuwe laag SikaCeram®-204 Medium White mortellijm aanbrengen
Toepassing in rechtstreeks zonlicht en/of bij sterke wind/tocht vermijden.
SikaCeram®-204 Medium White is speciaal ontworpen voor het plaatsen van niet-absorberende tegels van maximum 3600 cm² (bv. 60 x 60 cm) voor binnen, en tot 1600 cm² (bv. 40 x 40 cm) voor buitenvloerbetegeling.
Bij het verlijmen van elk soort tegel groter dan 900 cm²  (bv. 30 x 30 cm) is dubbele verlijming (buttering and floating) altijd aangeraden.
REINIGING GEREEDSCHAP
Reinig alle gereedschap en materieel met water vooraleer het materiaal is uitgedroogd, bij voorkeur onmiddellijk na gebruik. Uitgehard materiaal kan enkel mechanisch verwijderd worden.