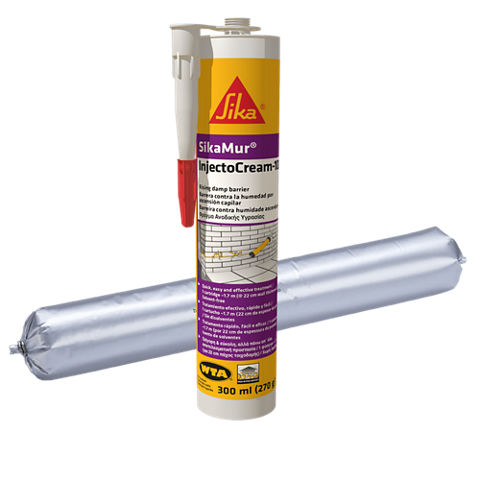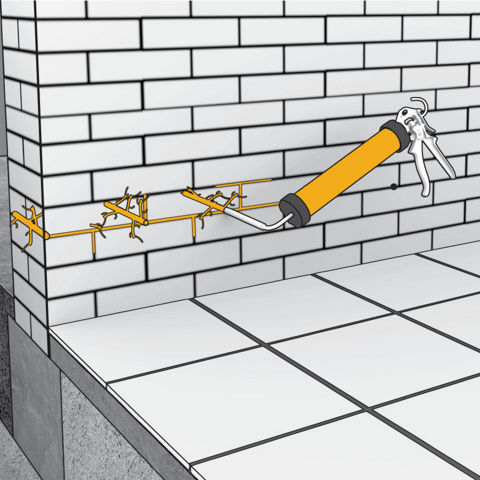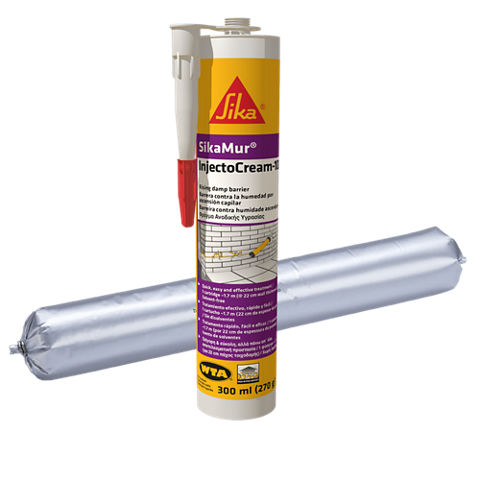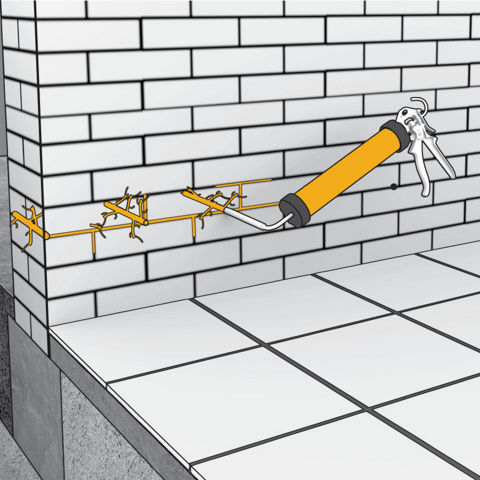 SikaMur® InjectoCream-100
Silaan gebaseerde injecteerbare waterkerende laag voor de behandeling van opstijgend vocht
SikaMur® InjectoCream-100 is een nieuw concept voor het beheersen van opstijgend vocht. SikaMur® InjectoCream-100 is een waterafstotende gel, verpakt in zakken van 600 ml en kokers van 300 ml. Het product wordt eenvoudig geinjecteerd bij middel van een pistool in een reeks geboorde gaten in de voegen van het metselwerk – geen speciale injectiepomp noodzakelijk. Eens geinjecteerd, verspreidt SikaMur® InjectoCream-100 zich in de vochtige muur om een waterkerende laag te vormen, de muur erboven te doen drogen en toekomstig optrekkend vocht te blokkeren. SikaMur® InjectoCream-100 voldoet aan de vereisten van WTA Richtlijn 4-4-04 / D "Injectie van metselwerk om het capillaire vocht te vermijden".
Makkelijk te gebruiken (laag risico op verwerkingsfouten, minder afhankelijk van de handigheid van de gebruiker).
1-component, gebruiksklaar.
Snelle toepassing (geen ''dubbele boring'', niet nodig te wachten tot de vloeistof onder druk of door zwaartekracht indringt).
Voorafgaandelijk waterdicht maken van de boorgaten rondom de spuitmond is niet nodig (in tegenstelling met de systemen onder druk).
Hoge injectiesnelheid (geen wachttijd na het inbrengen van het materiaal in het boorgat zoals met systemen onder druk, en ook niet nodig terug in te vullen zoals met injectiesystemen die met zwaartekracht werken).
Gelijkmatig materiaalverbruik (makkelijk de benodigde hoeveelheid product te berekenen).
Vereist geen speciale, dure pomp.
Verlies en vervuiling op de werf bijna nihil (geen probleem met vloeistof die door scheidingswanden, holtes of via leidingen er uit vloeit).
Geconcentreerde formule met ~ 80% actieve stoffen (zeer lage inbreng van niet reactieve bestanddelen in de te behandelen muur – veel doeltreffendere resultaten in vergelijking met minder geconcentreerde producten).
Laag risico, watergedragen – niet bijtend, onontvlambaar – injectie zonder druk.
Zeer weinig verspilling.
Weinig afval.
Geen risico van toename van uitbloeiingen op de muur (in vergelijking met de behandelingen op basis van siliconen).