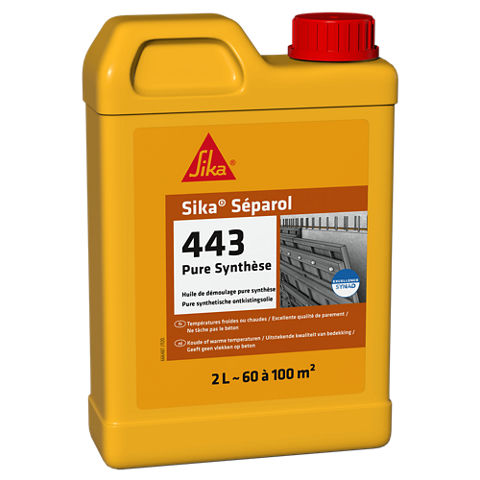 Sika® Separol®-443 Pure Synthèse
ONTKISTINGSOLIE VOOR UITGESTELDE ONTKISTING - KLASSE SYNAD "PUR SYNTHÈSE"
Sika® Separol®-443 Pure Synthèse is een gebruiksklaar ontkistingsmiddel voor uitgestelde ontkisting van beton en mortel. Het is solventvrij.
Verhindert de aanhechting van beton of cementhuid op behandelde vlakken
Laat geen olieachtige sporen achter op het beton na ontkisten of ontvormen
De toepassing van coatings of verven op ontkiste oppervlakken is mogelijk (aanvaarding van de ondergrond is de verantwoordelijkheid van de applicateur)
In het bijzonder geschikt voor architectonisch beton, maakt geen vlekken op witte of gekleurde betonvlakken.